Rainbow Hotel offers an excellent panoramic view of the sea from all of their 8 Deluxe Suites and 1 Junior Suite.
Centrally located on the main street, Rainbow Hotel is directly across from beachfront park with a clear view of the beach. The Suites are extremely clean, spacious & nicely furnished. They include TV, private bath and air conditioning. There are also 2 furnished apartments with two bedrooms each and a cabana. The family also runs a restaurant on the waterfront just north of the hotel.
Like many Caye Caulker families, the Marins depended on fishing for their livelihood. When the industry started to decline, they saw the potential in tourism and invested in a hotel.
Ernesto, who was a child at the time, literally grew up in the industry as his parents ran the hotel. Now, nearly two decades after the hotel got its name from a child's toy with a rainbow on it, Ernesto runs the family business. They are proud of their location and provide excellent, professional guest services.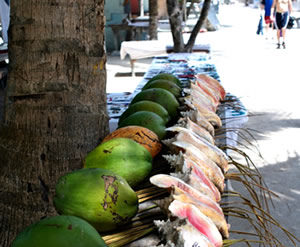 Located 21 miles northeast of Belize City and only 15 minutes from neighboring San Pedro, Caye Caulker is known for its cool, laid-back island life. With a population of approximately 1,200 people, the island appeals to visitors looking for a comfortable place to sleep, a white sandy beach, clear aquamarine waters, delicious seafood and friendly people.
About a 5 minute walk or about half-way from the Split (the end of the island).
From the front dock, walk north towards the Split and Rainbow is on the left across from the palapas and beachfront park.
From the airstrip, take a taxi or walk. If you choose to walk, go north into the village and walk on the main street.